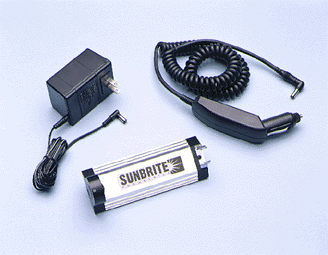 ADVANCED TWO STAGE SMART CHARGING SYSTEM
TWO STAGE SMART CHARGER:
This advanced smart charging system uses a design developed by SunBrite Industries, Inc. The system provides for maximum charging performance for Ni-Cad rechargeable batteries under two hours. The SunBrite smart charger is a two stage automatic fast charging system: The first stage charges the battery cells to their maximum capacity. Due to continuous loss of voltage while the batteries are in idle position, in the second stage, the charger will switch to a trickle charge, keeping the battery to its maximum voltage capacity at all times.
206-C and 306-C FEATURES
SunBrite's unique solid state charging system
Aircraft aluminum extruded body with high impact plastic ends
Combination Red/Green LED:
Red indicates auto fast charge
Green indicates trickle charge
Batteries never overcharge
AC or DC adapter compatible 110V, 230V, 240VAC or 12VDC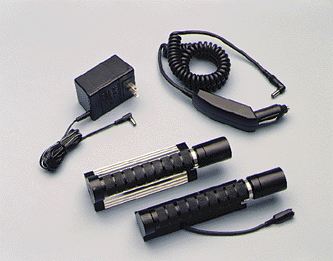 206-L in Smart Charger
IMPROVED FEATURES:
1: Bulb in place
2: Bulb removed
3: Focusable reflector
Specially treated reflector surface for maximum light efficiency. This feature allows the bulb to be replaced individually thus providing the most economical bulb replacement as compared to discarding the bulb and reflector offered by others. All aluminum machined reflector is durable, guaranteed for the life of the flashlight and the focusing feature allows the user to have a spot or flood beam.
Spare bulb compartment in Button Switch
All lights are equipped with fail-safe momentary push button switches. By rotating the end cap with thumb and four finger in one hand you can turn the light on for continuous use. The button switch is foolproof and is guaranteed for the life of the light. Instantly light up any dark occasion in any orientation, saving precious time in searching or shooting techniques when using our light.